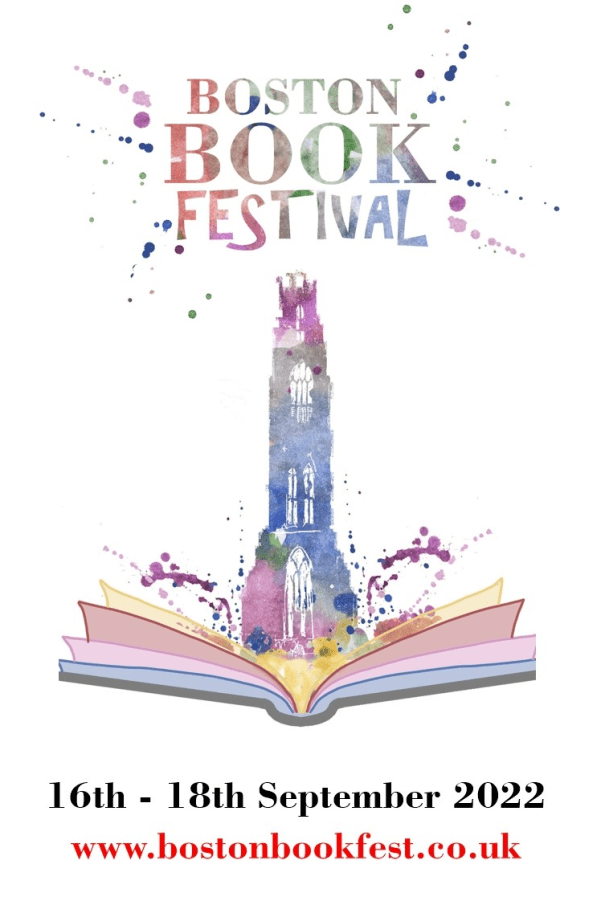 After the success of last year's Boston Book Festival, I'm delighted to announce that I will be involved with this year's event, which takes place from Friday 16th to Sunday 18th September 2022 in my home town of Boston, Lincolnshire (UK).
Boston Book Festival aims to champion diverse authors from across the local community, raise the profile of Boston nationally, and create new opportunities for all ages to access and enjoy literature.

We have a full schedule of events ranging from poetry to chicklit, from children's books to historical fiction, and everything in between. There's bound to be something to suit you, whether you are an avid reader, or just read when you are on an aeroplane on your way to the sun. Come and meet the authors, talk about their work, and perhaps be inspired to write your own best-seller!

All events take place within a small area at venues around Boston's historic Market Place, the biggest surviving medieval market square in England.

Come along and dip into a single event, or binge on books all weekend.
"What if?" Story Writing Workshop
Saturday 17th September 2022, 11:30 am at Fydell House (room 2), Boston, PE21 6HT.
Join local author Anstice Brown for her "What If?" workshop, aimed at budding writers and fans of fiction who want to try something new. You will explore fractured fairytales, compelling retellings, and modernised myths.
Through fun prompts and activities, you will learn how to write stories that defy expectations, blur boundaries and turn tropes on their head.
Anstice looks forward to sharing her tips and tricks and answering any questions you have about writing and publishing.

Suitable for ages 12 and above. This is in an upstairs room and is unfortunately not wheelchair accessible.
Free "Meet the Author" Drop-In
I'll also be hosting a book stall at Boston Book Festival's free author event at Boston Guildhall (PE21 6HT) on Sunday 18th September from 12 pm to 5 pm.
Come along to learn more about my fantasy and sci-fi stories. I will be holding a book giveaway, giving out bookmarks and seeking beta-readers for future projects. Whether you're a book-lover or aspiring author, I would love to meet you and answer your questions about short story writing, world-building and book blogging.
You will have the opportunity to meet many other authors, illustrators and publishers at this free event. Please come along to support our local authors and keep the festival going!
Spread the Word!
If you'd like to show your support for me and for Boston Book Festival, I'd really appreciate it if you could share, like and comment on my posts to help spread the word about this wonderful community event.
I can't wait to meet you!