I had an amazing time last weekend at Boston Book Festival 2022. This was the second book fest in my home town of Boston, Lincolnshire. I had such a good time last year that I signed up for this year's event straight away.
Many authors from a variety of genres hosted talks and workshops, including Sam McAlister, Hannah Gold, Rosemary Noble, Richard Macken, Tracy Borman, Elly Griffiths and Reverend Richard Coles.
My "What If?" Writing Workshop
My sister signed me up to deliver a creative writing workshop this year. I was very nervous, but it turned out to be a very enjoyable event. I had an hour and a half slot on Saturday morning in an upstairs room at the historic Fydell House, which was a lovely setting.
A few students from the school I work at turned up to support me and I was really impressed with all of the young people involved. They were very polite, engaged enthusiastically with the session and showed wonderful creativity in coming up with story ideas.
I gave them a pack of story planning resources to take away, which also included some of my bookmarks and pin badges. I was delighted with the feedback from the BBF team, who said that the teens who attended my workshop were inspired to write their own stories and "still buzzing about it the next day". Those comments made me so happy, as one of my main goals is to inspire young writers and readers.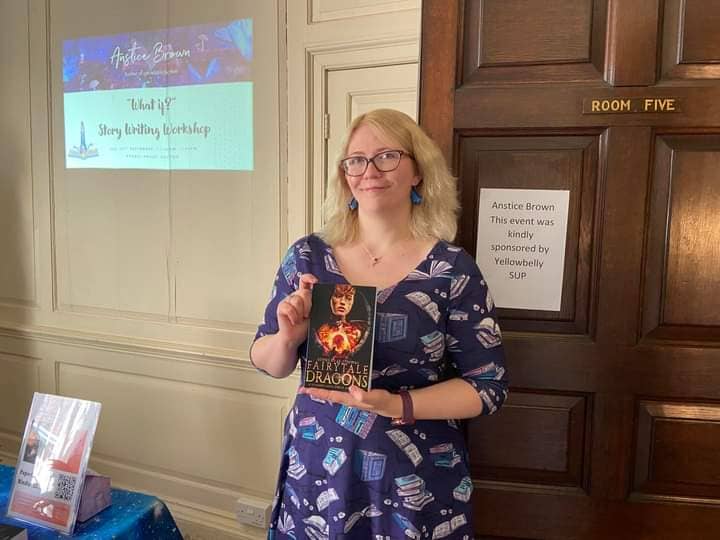 There was a short piece about the event in Lincolnshire World.
Author Meet and Greet
On Sunday, I had a stall at the free "meet and greet" event at Boston Guildhall. Although it was a little quieter than last year (possibly due to it being the weekend of the Queen's funeral), my sister and I sold about 14 books, which I was really pleased with.
We set the stall up similarly to last year, but my sister added some fairy lights for effect. We gave out lots of bookmarks and some of my brand new pin badges to promote my website and blog.
More importantly, I met some wonderful people who were kind enough to sign up to my newsletter. It was also a fantastic networking opportunity as I exchanged contact details with several other authors and wrote down several recommendations for books on writing craft, writing events and local groups. I couldn't resist buying some of their fantasy and sci-fi books too and getting them signed!
Special shout-outs to:
My good friend Warwick Eede, who was selling the second issue of his fantasy-Western comic, Human Beings.
Sav Sav, author of the Mor-al-Lee Island Presents books (illustrated by Warwick Eede).
E A Purle, who had an eye-catching Steampunk stall right next to mine and was so friendly.
The lovely Sharon Ihama, author of fantasy book The Emerald Stone.
My dear friend Richard Anderson who was selling his geography quiz book, Quiz of the World!
Matthew Barnes, author of the delightfully creepy novel The Maelstrom.
Young author Edvin Zuckovs, who is already on his second self-published Novel!
Helen Claire Gould, a fellow spec fic author whop also runs writing workshops.
Galerie Guillain, a husband and wife team who produce beautiful poetry and photography.
Short story author Terry Martin who was launching his new anthology, Tell Tales.
There are too many wonderful authors to mention, but I was very pleased to meet them all.
Thank You!
A big thank you to the Boston Book Fest team who were so organised, helpful and friendly. They ensured everything was set up perfectly before my arrival and even gave me a little goody bag containing some baked treats. I am also very grateful to Yellowbelly SUP School for sponsoring my workshop.
Thank you to the wonderful young people who attended my workshop and to all the lovely people I met at the author meet and greet. I really appreciate that so many other authors took the time to offer me advice and support, too.
And I can't forget my right-hand woman, Shana-Lee. My sister is my biggest cheerleader, my "marketing manager" and my best friend. She booked time off work to spend both Saturday and Sunday helping me set up my stall and sell my books. She even had a T-shirt made to support me! She really is the best.
Don't Miss Boston Book Fest 2023!
Boston Book Festival 2023 is already booked for the weekend of 22nd-24th September 2023. Please follow Boston Book Fest on Facebook, Twitter or Instagram to find out more about this amazing event.