My short story "Beneath the Roots", inspired by Slavic mythology, will be featured in Fall Into Fantasy: 2021, coming September 21st from Cloaked Press LLC.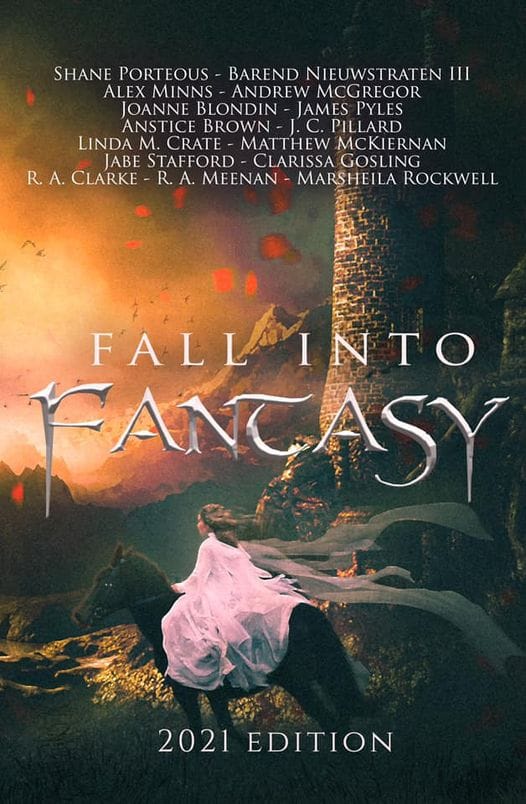 Fall Into Fantasy returns with 15 tales spanning the breadth of fantasy. From captive dragons to a magical war, Demons and circus performers, fairies and ghosts, dwarves and genies, even a typical day in the life of an earthworm. Don't miss a single entertaining, exciting tale.
Here's who you'll find within its pages.
Shane Porteous "Gathering Genocide"
Barend Nieuwstraten III "Hearthshare"
Alex Minns "The Concealed Witness"
Andrew P. McGregor "Demon Dave: Dinner Time"
Joanne Blondin "Astounding Performances"
James Pyles "Theo Klaggorn, Private Detective"
Anstice Brown "Beneath The Roots"
J. C. Pillard "Three Drops In The Snow"
Linda M. Crate "Flight Of The Fae"
Matthew McKiernan "The Each-Uisge"
Jabe Stafford "Dead Next Door"
Clarissa Gosling "The Genie Of The Ring"
R. A. Clarke "The Brightening"
R. A. Meenan "Some Things Remain"
Marsheila Rockwell "Play It Again, Sem"
ASIN: B09CGCCTDS
Now available to pre-order!
Amazon UK
Amazon US
Add to Goodreads
Book Bloggers and Reviewers Wanted!

Help us celebrate the release Fall Into Fantasy 2021 by joining us for a virtual book tour from 16th September-16th October (hosted by Silver Dagger Book Tours). Visit the participating blogs and Instagram pages to learn more about the book, read reviews and enter the giveaway. Details about the giveaway and the full tour schedule will follow soon.
Are you a book blogger or bookstagrammer? Please sign up to host a stop on the tour HERE. Alternatively, if you would like an ARC (advanced reader copy) to review on Amazon, Goodreads or elsewhere, please contact Cloaked Press, LLC. and let them know your preferred format.
About my story "Beneath the Roots"
"Beneath the Roots" is inspired by Slavic mythology and is all about the rivalry between Perun (god of thunder) and Veles (god of the underworld).
Cloaked Press, LLC was founded by Andrew Ferrell in 2016. Our first ever anthology launched in Fall of 2017 with Fall into Fantasy, a collection of short stories set in a variety of fantastical worlds. From Epic to Urban and Aliens to AI, Cloaked Press is committed to connecting readers with great Science Fiction and Fantasy stories to delight the imagination.
In 2020, the Cloaked Press team joined up with The Sci-Fi & Fantasy Writers' Guild to start creating themed anthologies, with much more to come.