My short story 'Sea of Sorrows' is featured in the YA romance anthology Masquerade: Oddly Suited. It was one of ten winning stories selected by judges of the IWSG anthology competition in 2018.
About Masquerade: Oddly Suited
Title: Masquerade: Oddly Suited
Release date: April 30th, 2019
Publisher: Dancing Lemur Press
Genres: Young Adult Fiction: Romance – General / Paranormal / Contemporary
Print ISBN: 9781939844644
EBook ISBN: 9781939844651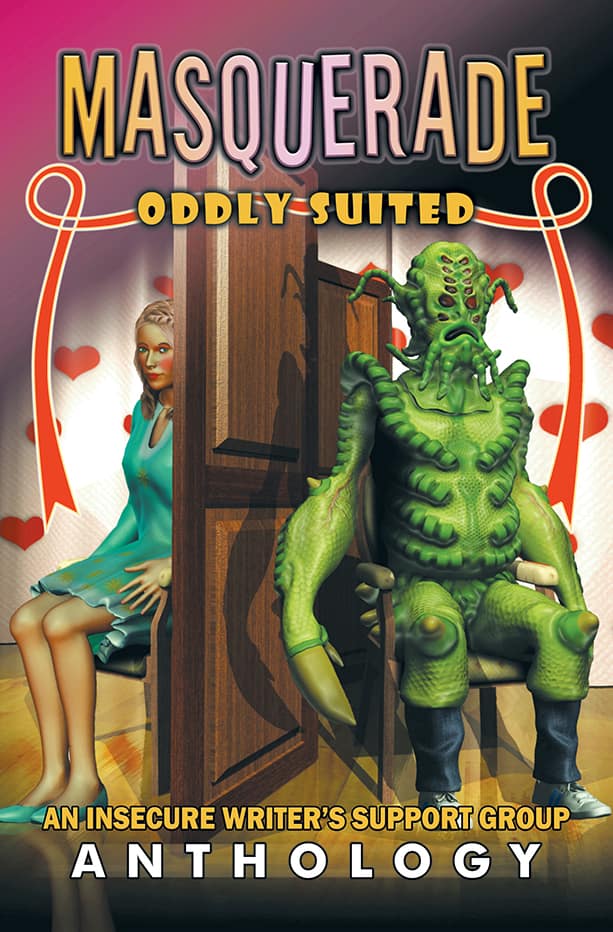 Find love at the ball…
Can a fake dating game show lead to love? Will a missing key free a clock-bound prince? Can a softball pitcher and a baseball catcher work together? Is there a vampire living in Paradise, Newfoundland? What's more important—a virtual Traveler or a virtual date to the ball?
Ten authors explore young love in all its facets, from heartbreak to budding passion. Featuring the talents of L.G. Keltner, Jennifer Lane, C.D. Gallant-King, Elizabeth Mueller, Angela Brown, Myles Christensen, Deborah Solice, Carrie-Anne Brownian, Anstice Brown, and Chelsea Marie Ballard.
Hand-picked by a panel of agents and authors, these ten tales will mystify and surprise even as they touch your heart. Don your mask and join the party…
"READ IT! There is something for everyone! Do you want Love? Got it! Do you want vampires? Got it! Do you want time travel? Got it!" – Jessica Renfro, book reviewer.
"A diverse collection of m/f YA clean-reads romances to transport readers between the past, present, and future, from the sea bottom to the virtual clouds." – J. Lenni Dorner, author.
"Stories that will chill your heart, bring smiles to your lips, and keep you turning pages." -Beverly Stowe McClure, author.
Out Now!
eBook
Paperback
Find out more
Blog
Goodreads
Facebook
Twitter
Pinterest
About my story 'Sea of Sorrows'
What could a shapeshifting siren know about love?

When ocean-dwelling shapeshifter Mairg is mistaken for Erik's missing fiancée, she reluctantly agrees to help him find his love in order to protect her sisters. Erik gives her hope of a life free from killing, and she soon finds herself falling for him.
But her search for Aisla dredges up memories that Mairg's guardian, the sea hag, would rather forget. Will Mairg fight against her own kin to save the girl Erik loves? Or will she embrace her monstrous nature and keep him for herself?
Other Stories Featured
Oddly Suited, LG Keltner
The silliest situations may be oddly suited for romance.
Behind the Catcher's Mask, Jennifer Lane
Who can help her through a meltdown on the pitcher's mound?
The Dark Charade, CD Gallant-King
The new girl in town falls in love for a mysterious boy who is maybe, probably, most definitely, a vampire.
The Cog Prince, Elizabeth Mueller
Falling in love, saving the day, and a masque—oh my! Will a missing key free a clock-bound prince?
A Diver's Ball, Angela Brown
You can be anything you want in the online world of Cumulus. A human. An elf. A powerful beast mutation from your wildest imagination. But can you be in love?
Flower of Ronda, Myles Christensen
What if life's price of servanthood could be changed?
Fearless Heart, Deborah Solice
Is he a figment of her imagination conjured to keep her sane, or is he something else…something more?
Charleston Masquerade, Carrie-Anne Brownian
Can two worlds come together and find love?
Remedy, Chelsea Marie Ballard
Everything is against Remy and Rudy, but on the night of the Masquerade Ball, they must choose: each other or their lives?
You can find out more about the authors of Masquerade: Oddly Suited here.
Dancing Lemur Press LLC is dedicated to bringing outstanding and inspiring science fiction & fantasy, new adult/young adult, mystery, paranormal, middle-grade, non-fiction, Christian, and more to readers!
We strive to publish works that uplift and inspire, encouraging the reader to explore and discover while remaining morally grounded. 
Our goal is to provide hope for the reader's dreams and aspirations. Share the vision and come dance with us!
Reviews